Commercial Power Washing Mississauga, Hamilton & Niagara Area
With as much foot & road traffic as the Greater Mississauga, Hamilton & Niagara areas see on a daily basis, it is no surprise that common areas get dirty quickly. In addition to the large populations the cities see, buildings, parking lots and other outdoor structures are exposed to the extreme weather of Ontario's seasons. As a result, the demand for commercial power washing services in the Toronto, Hamilton & Niagara areas has increased substantially over the years as residents, visitors, customers, employees, etc. expect clean spaces indoors and out.
Commercial properties require regular maintenance to maintain a clean and professional appearance. One highly effective method to achieve this is power washing. Power washing utilizes high-pressure and hot water to blast away dirt, grime, and other contaminants from various surfaces. In this blog post, we will explore the top five commercial applications of power washing. We will review the benefits of power washing for graffiti & gum removal, exterior building restoration, parkade maintenance, commercial window washing, and fleet washing.
Graffiti & Gum Removal
Depending on where your business is located, it may be the target of graffiti vandalism, which can significantly impact the visual appeal and reputation of a business. Power washing is a reliable method for graffiti removal. By utilizing the right combination of water pressure, temperature, and cleaning agents, our trained professionals can effectively remove graffiti from various surfaces, including exterior walls, fences, and signage.
Gum deposits on walkways and other surfaces can create an unsightly and uninviting appearance for commercial properties. Power washing is an excellent solution for gum removal, as it can dislodge and eliminate gum without damaging the underlying surface. Regular gum removal is often recommended in public places to maintain a clean and professional environment for employees and customers.
With our advanced power washing system and team of trained professionals, H2GO Mobile Wash can effectively & efficiently remove unwanted graffiti and stuck-on gum.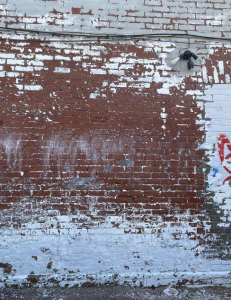 Building Restoration Services
Over time, commercial buildings collect dirt, grime, pollen, salt and other pollutants that can degrade their appearance and structural integrity. Power washing plays a vital role in building restoration by effectively removing years of accumulated debris. At H2GO Mobile Wash, our wash technicians can adjust the pressure and temperature of the water to adapt to various surfaces, such as concrete, brick, stone, stucco and vinyl siding. This ensures your entire building and walkways are power washed safely and restored to their original beauty. Power washing is a cost-effective way to revitalize commercial properties, improving curb appeal, and extending the lifespan of the building's exterior.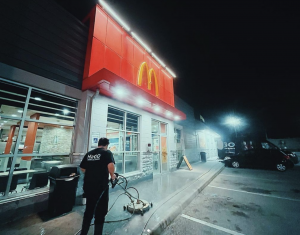 Parkade Power Washing & Maintenance
The parking lot is one of the first areas customers and clients encounter when visiting a commercial property. Offering a clean and well-maintained parking lot or garage is crucial for creating a positive first impression about your business and city. Power washing is an efficient method for cleaning large surfaces like parking lots and underground parking garages, effectively removing oil stains, tire marks, and other debris.
At H2GO Mobile Wash, we offer recurring parking lot & parkade cleaning packages to keep your business looking great, attract patronage, and ensure a safe experience for your guests. We use hot water and steam to blast away oil stains, dirt and grime on the parking lot floor, ceiling, walls, and stairwells, collecting excess water as we go. We can also freshen up the the line paint and clean the catch basins for a full service option.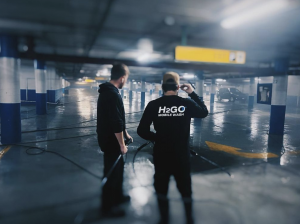 Commercial Window Washing
Windows accumulate dirt, dust, pollen, mold, and water stains quickly and require frequent maintenance. Regular window washing not only improves the building's appearance but also allows natural light to flood the interior spaces, creating a more inviting atmosphere. Power washing is an effective method for commercial window cleaning, particularly for windows located on higher floors or in difficult-to-reach areas.
Our team of trained professionals are experienced in commercial window washing and understand the unique requirements of different building types. We utilize specialized equipment, such as water-fed poles and high-pressure sprayers, to clean windows efficiently and safely. Our technology uses hot water and steam to remove and sanitize mold and allergens that can be harmful to the building's residents, customers and employees. Contact us to learn more about our professional window washing services and let us help you maintain pristine windows that reflect the professionalism and attention to detail of your business.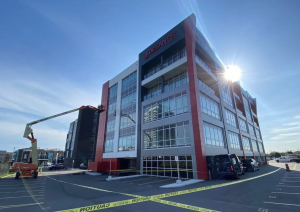 Fleet Washing Services
Your company's fleet vehicles are the face of your business & brand while on the road and often get a lot more brand exposure than signage on your building. Regular fleet washing not only enhances your company's image but also helps to preserve the longevity of your vehicles. Regular fleet washing removes road grime, dirt, and salt residues that can corrode your vehicles' sensitive components and exterior finishes over time. It also prevents the build up of salt and grime on your wheels, brakes and other key components that ensure the safety of your vehicles. Power washing fleet vehicles requires precision & experience to ensure you do not cause damage to the vehicles. Make sure you select a professional power washing service provider that is familiar with cleaning fleet vehicles.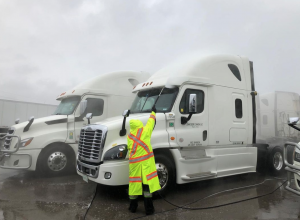 Power washing offers a range of benefits for commercial properties, from graffiti & gum removal to building restoration, commercial window washing, parkade cleaning, and fleet washing. Regular power washing not only enhances the appearance of commercial properties and vehicles, but also prolongs the life of various surfaces, providing a clean, professional and safe environment for employees and customers alike. Contact H2GO Mobile Wash today to experience the transformative power of professional power washing for your business.